Building a Stable Setup: Check out this fantastic video from the iRace4Life.org iRacing Seminar in Dallas. iRacer David Cater takes us through the process of building a good, balanced setup at Texas in the Impala A car. This video is over 58-minutes, very detailed. More videos to come including "Building a Super Speedway Setup" and "Building a Setup for Short Tracks." Watch Video 3/28
---
Ruf RT12R Coming to iRacing: iRacing.com today announced plans to add the Ruf RT12R to its lineup of virtual race cars and high performance automobiles. Manufactured by Ruf Automobile GmbH, the RT12R is amonth the world's very fastest production automobiles. iRacing vehicle dynamic engineers will begin the process of creating a digital prototype of the RT12R later this spring. iRacing expects to make its Ruf RT12R available to iRacing members in the fall of 2012. 3/28
UPDATE: It has been confirmed that iRacing plans to build the RWD RT12R.
---
Android Forum App: Nick Thissen, iRacing member, has released a beta version of Android Forum App, for Android 2.1 and up. With this app, you can login to the iRacing forums and view the various threads and posts with ease. No more problems having to zoom in to click a link, to read the post, etc. View 3/25
---
Cadillac to be Rookie Series?: iRacing is still working on the details with Cadillac, but they want this car to be available to all. They are making this car free to all current members, and it appears it will become a series that ANY members can participate in and be fixed setup. This would allow anyone in the world the ability to sit down, use 1 month free coupon, and be able to race that car. 3/23
---
Next Two Tracks are Langley and Motegi: From Steve Myers twitter, Langley and Motegi are the next two tracks to be released and both will include night versions. 3/23
---
NTM 2.1?: It appears iRacing will release NTM 2.1 in the next build. Eric Hudec wrote that "vulcanization (cure package) isn't currently in the model. Compound modeling version 2 will have this." This should affect how heat builds up in tires, and how hard they fall off into a run. Driving super hard will cause more heat build-up, therefore dropping lap times more significantly. All that is confirmed is that "2.1 is almost here". We can also speculate that the Indycar, Mustang, Lotus, SK/Tour Modified, Sprintcar, Solstice and VW Jetta may all have the NTM when 2.1 is released. 3/13
UPDATE: Eric Hudec wrote that he was fairly sure the Indycar will receive the NTM in the next build. 3/23
---
Arrive and Drive?: Tony Gardner wrote that they are talking about the idea of doing some arrive and drive series. Arrive and drive series would work a bit like a current session, however you can join a race at anytime and when enough people register, the race would kick off. Tony said another idea is if not enough people signup for a race to make it official, the clock would automatically add another 10 minutes to allow the race to become official. Tony says they are not actively being worked on, but are being talked about for the future. 3/23
---
NASCAR.com: Defending champ Afalla wins first of '12 by Jason Lofing
Defending NASCAR iRacing.com Series World Champion Ray Alfalla won his first race of the year at Chicagoland Speedway Tuesday night, dominating the second half of the online race after taking the lead on Lap 54. Also available on inRacingNews.com 3/21
---
Donington Park Articles:
• The Checkered Flag: Donington Park Set To Be Added To iRacing by Louis Suddaby 3/15
• inRacingNews: Donington Park to Join iRacing Catalogue by David Phillips 3/15
• Gamers Daily News: iRacing.com to Add Donington Park 3/15
---
Happy St. Patrick's Day: Check out Danica's 2012 St. Patrick's Godaddy.com Impala. This will be driven by Danica in the Nationwide Series race at Bristol Motor Speedway this weekend. It's available for download, painted by Justin Kruithof. 3/17
---
Car and Driver: Las Vegas May Get a Taste of Germany with a Nürburgring Replica by Sam Schembari
Las Vegas is one of the most popular tourist cities in the world. It has everything: gambling, a copy of the Eiffel Tower, a replica of the Great Sphinx of Giza (the Luxor's is actually larger than the original), and its own versions of New York and Venice. If Bruton Smith, the CEO of Speedway Motorsports, can make it happen, the city will soon have a copy of the Nürburgring in its own backyard, too. #interesting 3/17
---
Added 2012 Sprint Cup Series Paint Schemes: Jamie McMurray Bass Pro Shops; Tony Stewart Office Depot; Matt Kenseth Best Buy; Jeff Burton Wheaties; Kurt Busch Hendrickcars.com; Martin Truex Jr. NAPA; Martin Truex Jr. NAPA Filters; Carl Edwards Fastenal; Greg Biffle 3M all painted by Justin Kruithof. 3/16
---
inRacingNews.com: 120 Minutes of Sebring Set for March 18 by David Phillips
The 2012 World Tour of iRacing makes its third stop in the Sunshine State with the 120 Minutes of Sebring on Sunday, March 18. The race honors America's longest-running major endurance race, the Twelve Hours of Sebring, which is poised for its 60th Anniversary this weekend. 3/13
---
iRacing Seminar on Sim Racing Tonight: The March 10th episode of Inside Sim Racing has great coverage of the iRace4Life.org iRacing Seminar. Registration is already open for the 2nd Annual iRace4Life.org iRacing Seminar in Dallas, March 7th-9th, 2013.
---
New Cars Slated for 2012: The Cadillac CTS-V is coming to iRacing in "late April". Steve Myers says the McLaren MP4-12C GT3 car is coming along great, with engineers flying to England at the end of March to collect more data, we can expect this car to come toward the end of 2012. Steve has also said the Lotus 49 will be coming out "sometime this year" as well. It seems another car is in the works to come out after the McLaren but before the Lotus 49. Speculation says the 2012 Indycar may be that car. 3/13
---
NiWDC Switches Bristol for Chicagoland: It appears that iRacing has changed the next race of the NASCAR iRacing World Driver Championship Series from Bristol Motor Speedway to Chicagoland Speedway. This change was likely made as it's no secret that the race at Phoenix was filled with cautions and Bristol is typically filled with cautions anyway. 3/13
---
inRacingNews.com: Trump Cards by David Phillips
iRacer Jordan Taylor is using iRacing to prepare for his debut with Corvette Racing at Sebring this weekend. 3/13
---
Added Paint Schemes: 3/12
• 2012 #5 Kasey Kahne Quaker State Alternate Sprint Cup Series Scheme painted by Guy Driggers
• 2012 #5 Kasey Kahne Farmers Insurance Alternate Sprint Cup Series Scheme painted by Guy Driggers
• 2012 #24 Jeff Gordon AARP Drive to End Hunger Alternate Sprint Cup Series Scheme painted by Guy Driggers
• 2012 #88 Dale Earnhardt Jr. National Guard Sprint Cup Series Scheme painted by Guy Driggers
• 2012 #88 Dale Earnhardt Jr. National Guard Alternate Sprint Cup Series Scheme painted by Guy Driggers
• Fictional The Pits Impala A Scheme painted by Guy Driggers
• 2009 #8 Martin Truex Jr. Bass Pro Series Nationwide Series Scheme painted by Guy Driggers
• 2009 #8 Martin Truex Jr. Bass Pro Series Nationwide Scheme for Monte Carlo painted by Guy Driggers
• 2011 #29 Kevin Harvick Budweiser CUP Scheme for Silverado painted by Landon Chapman
• 2010 Timothy Peters K&N Filters Camping World Truck Series Scheme painted by Landon Chapman
• 2010 Matt Crafton Strutmasters Camping World Truck Series Scheme painted by Landon Chapman
• 1989 Neil Bonnett Retro Citgo Cup Scheme painted by Landon Chapman
---
Donington Park Coming to iRacing: iRacing's Steve Myers says he has signed a deal with Donington Park. No word yet when this track will begin production or be released. 3/12
---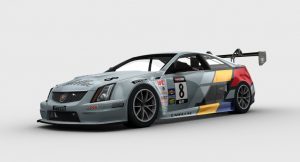 iRacing to Build Cadillac CTS-V Coupe: UPDATE4 FREE; Late April: iRacing and Cadillac announced today they will partner in building a virtual version of the Cadillac CTS-V that will be competing in the 2012 Pirelli World Challenge. iRacing's Cadillac CTS-V is expected to be available to iRacing members in the spring of 2012. In addition to developing a virtual Cadillac CTS-V, iRacing and Cadillac are planning a dynamic marketing campaign to maximize the benefits of their new partnership. Details will be announced shortly. 2/9
UPDATE: iRacing has released a rendering of the new Cadillac CTS-V. Click to enlarge. 2/9
UPDATE 2: Steve Myers posted, "This is a special special program we are running with Cadillac that will last a year so we will have to tailor it to what they want during that period. We are targeting the start of Season 2 for the launch of the series and they want it accessible to all members." 2/9
UPDATE 3: iRacing will release the Cadillac CTS-V free of charge to all iRacing.com members, and will be forever included in the base package. 3/7
UPDATE 4: Steve Myers says to expect the Cadillac CTS-V late April, and will also be released with Motegi. 3/12
---
Travis Pastrana Gets iRacing Sponsorship: UPDATE Photo: Travis Pastrana will run 11 races in the 2012 K&N Pro Series with iRacing serving as the primary sponsor in four races. His K&N season opens March 17 at Bristol Motor Speedway. 2/24
UPDATE: Check out a photo of the scheme HERE. 2/24
UPDATE 2: Check out this article on inRacingNews.com. 2/24
UPDATE 3: Check out image of the concept art for the crew fire suits. 3/12
---
SimShiftLight FREE Android App: UPDATE: SimShiftLight turns your Andriod device into a shift light unit and more! Each car has its own user customizable RPM where the shift light turns on. In addition to the shift light, the current gear is displayed, with customizable font size. Another very useful feature is the successful downshift indicator. All real and sim race car drivers know how crucial the brake/downshift/turn-in phase is, and how critical it is that each downshift is carried out correctly. Some cars require rev-matching for downshift, and it is easy to miss a down shift. With the successful downshift indicator, SimShiftLight helps you detect each successful (and failed) down shift without taking your eyes off the road. With each down shift, the gear background blinks green to indicate success. The blink duration is user customizable to the millisecond. The feature is furthermore possible to completely disable if not wanted. The SimShiftLight Android application is available for free on the Android Market. Forum Post | Android Market 2/26
UPDATE: An update has been released for SimShiftLight:
• Added .ini setting to force the server to run on a specific core only. Good to use if a core is otherwise constantly unloaded.
• RPM value now always picked from driver's car in multiclass sessions.
• Pre launch precision timer now restored on server exit. 3/8
---
iRacing.com Nears 500 Million Laps: UPDATE Not Yet: iRacing.com members have now driven over 380 million laps around the  50+ ultra-realistic virtual road and oval tracks since the iRacing opened for business in the summer of 2008.
UPDATE: Tony Gardner posted that the half billionth lap was just hit and they are looking into it. Here's how they are celebrating:
• Whoever drove the 500th million laps gets a free 5 year membership. (Probably just $500 of credit.)
• Any driver that drove in an official race on the day that the half billion lap was run gets $5 of iRacing credit.
• Whoever runs the most official series race laps between 9/28/2011 and the day of the 500 million lap day gets $500 of iRacing credit for both road and oval.
• Lastly, whoever has the most official wins between 9/28/2011 and the 500 million lap day gets $500 of credit. (Just 1 winner, NOT road and oval). 3/8
UPDATE 2: As of this morning at 475,990,303 completed laps driven in the system. 3/8
---
2012 Season 2 Changes: iRacing.com announced several changes that would take place for Season 2, 2012:
• Street Stock will now become the rookie car, and rotate between USA Speedway and Charlotte Motor Speedway.
• USA Speedway will now be a free track, included in the base package.
• The Ford Legends car will now move to the Advanced Rookie Level.
• When the Cadillac CTS-V is released it will be included in the base package. 3/8
---
inRacingNews.com: Rookie Oval Series Change in Season 2, Track Added to Base Content by David Phillips
In the real world, many oval racers start and enjoy long careers racin' and rubbin' on short ovals.  There are many reasons for this including safety and financial considerations, not to mention a driver's proximity to short tracks.  iRacing has historically followed that progression from Rookie license class on short tracks all the way up to the Pro and World Championship license class.   That is about to change, beginning in 2012 Season 2. 3/8
---
Chevrolet of Joplin: Team Cadillac and iRacing.com Team Up to Let Virtual Drivers Experience the CTS-V Coupe
If you have ever wanted to be a part of Team Cadillac Racing, here is your chance. iRacing.com and Team Cadillac Racing are partnering to give virtual racers a chance to get behind the wheel of a CTS-V race car on iRacing.com's multitude of tracks. iRacing.com, a premier online motorsports simulation gaming service, has developed the virtual race car based on the actual CTS-V Coupe race cars driven by Team Cadillac's Johnny O'Connell and Andy Pilgrim. 3/7
---
NASCAR.com: Ottinger wins wild, controversial Phoenix by Jason Lofing
Nick Ottinger came out on top of a wild and controversial Week 2 of the NASCAR iRacing.com Series World Championship at Phoenix International Raceway, redeeming himself after missing the opening week at Daytona. Ottinger (Claremont, N.C.) qualified on the pole and led 62 laps, but it appeared he would have to settle for second place when Kevin King (Sammamish,Wash.) grabbed the lead on a late pit stop and took control of the race. NASCAR.com 3/7
---
JustLuxe: Las Vegas Motor Speedway Offers Dream Racing Experience
Excerpt: " Afterwards, a 3-D virtual simulation experience, powered by iRacing, lets the participants get unique familiarity with the Las Vegas Motor Speedway before even getting behind the wheel." JustLuxe 3/7
---
NiSWC at PIR on iRacing Live Tonight! UPDATE: iRacing Live is set to broadcast the second round of the 2012 NASCAR iRacing.com Series World Championship tonight from Phoenix International Raceway at 9 pm EST (02:00 GMT Wednesday). Jeremy R Allen, winner of the opening round at Daytona International Speedway, will be out to make it two in a row, but the rest of the world's top stock car sim racers have other ideas. Robert Hall and Mike Conti, P2 and P3 at Daytona, will be looking to mount the top step of the podium; ditto 2010 NiSWC champion Richard Towler (seventh on Daytona), while defending champion Ray Alfalla tries to rebound from a crash that consigned him to twentieth place in the opener. Catch all the action on iRacing Live tonight beginning at 9 pm EST (02:00 GMT). inRacingNews.com | Link | 3/6
UPDATE: For the second consecutive broadcast of the NiSWC, PSRtv doesn't work properly. A few are able to watch, and a few are able to get some type of slideshow (stutter), but the majority are unable to watch anything again. Following the last broadcast, a bit of a war broke out between the broadcast companies. No word if iRacing has any idea of switching companies at this time. 3/8
---
• Racer: iRacing's "king" returns to winning form
• Racer: iRacing's "Daytona Million"
---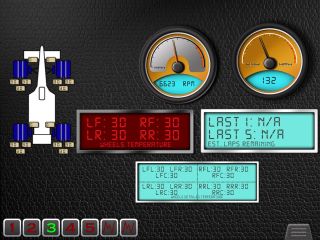 iHUD Update Coming: iHUD, an app made to allow iRacers to build custom dashboards on iOS, appears to have an update coming soon. Tire temperatures, brake temperatures, new gauges and estimated laps remaining with fuel (using the last five laps and only the last lap). No word when this update may be released. 3/6
---
Phoenix International Raceway UPDATE: This track was resurfaced and reconfigured in 2011. No word if iRacing plans to rescan/reproduce this track anytime soon.
UPDATE: iRacing may re-scan Phoenix later this spring and try to have this track re-leased for the fall Sprint Cup Series race. No official word yet. 3/4
---
Added Paint Schemes: 3/4
• 2012 #29 Kevin Harvick Rheem Alternate Cup Scheme painted by Brandan Gray
• 2011 #18 Kyle Busch NOS Energy Nationwide Scheme painted by Dylan Schmidt
Total Views: 2349