Season 2 Schedule Released; Build Coming Tuesday 04/23? Although it will probably change a few times before the season begins, Steve Myers posted the Season 2 schedule on the forums today. The highlights include the addition of the Lotus 49, which will NOT be ready when the new build is deployed but will come at some point during the season. Another new addition is the "iRacing Global Challenge" series, which will include the Cadillac CTS-V and the Kia Optima. The series will be similar to the Cadillac Cup series of seasons past, with the addition of the Kia and 12 different tracks on the schedule. The new build is currently scheduled for Tuesday, April 23rd, but this could change as recent builds have been delayed close to deployment. Click here to see the Season 2 Schedule Click here to see the plans for the new build's deployment 04/16
Paint the Yellow DEGA Challenge: Paint the Yellow will be hosting the DEGA Challenge beginning this week on Wednesday. Hosted sessions will run this week and next on Wednesday, Thursday and Friday at Talladega Superspeedway in the Silverado. The top two finishers in each race will lock into the main show on Saturday, April 13. The 3rd and 4th place finishers in each will enter a last chance qualifier where the top two will also advance into the main show. There are 20 qualifying races running throughout the Wednesday-Friday races. Each race is 25-laps, no cautions, limited fuel (to require one pit stop), open setups. The main event on Saturday, April 13 is a 100-lap race with cautions to determine the overall winner. PTY Info Page 4/2
---
Toyota Coming to iRacing?: According to the official twitter for Toyota Racing, "Contracts are being signed – it looks like less than 2 months out. Have faith!" Tweet 3/27
---
Added 2013 Jimmie Johnson Lowes, 2013 Dale Earnhardt Goodwrench, 2013 Dale Earnhardt Jr. Diet Mountain Dew, and 2013 Dale Earnhardt Jr. National Guard all painted by Jeremy Enochs 3/9
---
Added 2013 Marcos Ambrose Stanley, 2013 Marcos Ambrose Dewalt, and 2013 Dave Blaney Florida Lottery paint schemes. 3/8
---
Added 2013 Danica Patrick GoDaddy.com Chevy SS, 2013 Brad Keselowski Miller Lite Ford Fusion, 2013 Trevor Bayne Motorcraft Ford Fusion and 2013 Dale Earnhardt Jr. Amp Energy Orange Chevy SS paint schemes. 3/7
---
iRacing Ford Fusion RELEASED: iRacing has released the 2013 Ford Fusion NASCAR. A few other bugs were fixed as well, such as where the roof flaps of opponent cars could flap while they are parked on pit lane. Read Release Notes 3/7
---
Chevy SS Gen-6 Paint Schemes: Thanks to Justin Kruithoff, Charles Churchville, Chris Holleger, and Gregory Dimas we have added our first batch of Chevy SS Gen-6 Paint Schemes. 2013 Clint Bowyer 5 Hour Energy, 2013 Clint Bowyer Peak, 2013 Jeff Gordon AARP, 2013 Jeff Gordon Pepsi, 2013 Juan Montoya Target, 2013 Kasey Kahne Farmers Insurance, 2013 Kevin Harvick Budweiser, 2013 Kyle Busch M&Ms, 2013 Kyle Busch Monster Energy, 2013 Martin Truex Jr. NAPA, 2013 Matt Kenseth Husky, 2013 Ryan Newman Quicken Loans, 2013 Tony Stewart Bass Pro Shops, 2013 Tony Stewart Mobil 1 - Please email us at submit@iracerstuff.com if you would like to make your 2013 NASCAR paint schemes available on iRacerstuff.com. Check out the full 2013 Chevy SS Paint Schemes Page 3/6
---
NASCAR iRacing Series UPDATE: The NASCAR iRacing Series begins Thursday. iRacing has added another race time for the Asia/Pacific time zone and for the U.S. time zone. 3/6
UPDATE: iRacing's new Ford Fusion will not be ready in time for the new series. 3/6
---
February 26, 2013 Release Notes: iRacing has released the 2013 Chevrolet SS. There is a small bug that can cause the roof flaps on your opponent cars who are parked in the pit lane to flap up and down while you are driving around the track. This will be fixed in the next release in a week or two. Other minor bug fixes with shadows, spotters, and Windows 8. 02.26.2013 Release Notes Page 2/26
---
Chevy SS Template: Reed Rundell has posted some additional help and add on parts for the new iRacing Chevy SS. The template includes new logos (Goodyear and Chevy SS), roof cam and decals, jack markers and arrows, exhaust "stains" with exhaust plate and metallic layers. Reed Rundell Chevy SS Addons Page 2/25
---
Gen 6 Chevy SS Sneakpeak: Check out this sneek peek of the Gen6 Chevrolet SS Sprint Cup Car.
---
World Tour Update: Full race information will be posted about the iRacerstuff.com Daytona World Tour events later this week. iRacerstuff 250 Page | iRacerstuff.com 300 Page 2/25
---
Chevy SS & Ford Fusion Render: iRacing released this image of the new Chevrolet SS and Ford Fusion Gen6 cars. The Chevrolet SS is slated to release the day following the NASCAR Sprint Cup Series' Daytona 500 (February 25th) with the Ford Fusion coming within the next week or two after that. 2/16

---
02.14.2013 Build: iRacing released a build this morning with some small updates to the sim and a few bug fixes. Here is a quicklist of today's updates:
Few small graphics updates, increased framerate limit from 169 FPS to 334 FPS.
Updates to Force Feedback strengths, settings, and options.
Chat hotkeys now work when out of the car, allows custom hotkeys for admins.
Bug fixes for reloading car textures.
Small updates to Telemetry.
Gained time slowdown at any point during qualifying will invalidate the lap.
Fixed a bug with spotting text chat.
Fixed the DSD sponsorship so it shows up in the paintkit properly.
Fixed bug to the flexible drivetrains where sometimes downshifts wouldn't complete in the cars with computer shifter gearboxes.
Removed some unnecessary textures from a few cars to help reduce texture memory usage in multiclass racing.
Drafting was slightly reduced on oval cars.
Added several fixed setups and baseline setup fixes.
No longer possible to cut chicane on backstretch at Oulton Park.
Read the full release notes on the 2013.02.14 Release Notes Page. 2/14
---
RUF RT12: Check this very early work in progress screenshot of the RUF RT12 wire frame. 2/14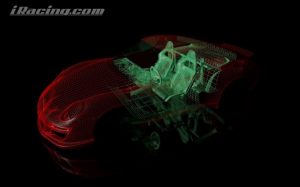 ---
iRacerstuff.com Daytona World Tour Events: iRacerstuff.com will host two World Tour events next week. The iRacerstuff.com Daytona 300 is a 120 lap Impala B race at Daytona on Thursday night. The iRacerstuff.com Daytona 250 is a 100 lap Truck race at Daytona-Night on Wednesday night. Both races lead up to the iRacing.com Daytona 500 on Friday and Saturday. 2/12
Links: iRacerstuff.com Daytona 300 | iRacerstuff.com Daytona 250 | Schedules & Events Page
---
New Car Sounds: Steve Myers confirmed today that the new 2013 iRacing Chevrolet SS and 2013 iRacing Ford Fusion will have the new tv cam sounds when they are released. He also confirmed that the remaining stock cars will get them in the next build. Twitter | New Build Updates Page 2/11
---
iRacing Auto Join: iRacing Auto Join is a simple userscript that adds a little functionality to the session signup process on the iRacing membersite. iRacing Auto Join adds a small checkbox inside the "Staging" button. When it's ticked and the green join button appears it automatically clicks it for you so the sim will start loading. It works for all types of sessions, whether you're driving, spectating, or spotting. iRacing Auto Join Page 2/11
---
2013 iRacing.com Daytona 500: iRacing will host the 2013 iRacing.com Daytona 500 on Friday, February 22nd and Saturday, February 23rd. This year's race is set for 200 laps using the Chevrolet Impala (Class A) at Daytona International Speedway. Changes to qualifying procedures this year as there will be only one qualifying session, it will begin 15-minutes prior to race start. Qualifying will be a standard best of two green flag laps. 2013 iRacing.com Daytona 500 | Schedules & Events Page 2/1
---
Montreal Screenshots: Check out these early released screenshots of Montreal, currently under development by iRacing. iRacing has confirmed that Kansas Speedway will be the next track released, and that both Montreal and Bathurst are in development following Kansas. No word yet on a time frame for release. Facebook 2/8
---
Added TONS of information to the New Build Updates Page from Steve Myers Cat Herder XVII post. Pages have been added for simBOOT, Fast Track Sims, VisionRacer, RSEAT, Obutto, Playseat, GT Omega Racing, BlueTiger, Sim-Sport, Perfect Pedal, ECCI, Xtreme Sim Gear and Roso F1 Steering Wheels.
---
Kia Optima GX Racecar Video: The Kia Optima is currently under development by iRacing currently slated for release in Spring 2013. Check out THIS PREVIEW VIDEO. 2/7
---
Bathurst Screenshot: Sean Siff posted THIS SCREENSHOT and THIS SCREENSHOT of Bathurst which is in production. It is expected to be the next track released following Kansas Speedway in April/May. 2/7
---
Cat Herder XVII: The latest edition of Steve Myers highly anticipated Cat Herder is now available. Here are some of the highlights:
NASCAR Chevy SS Cup car coming in about four weeks. Ford Fusion a few weeks later.
Has been in talks with Toyota, hopes to accomplish "soon".
Driver names will be coming to the windshield of the G6 cars, but probably not immediately.
The Ruf Rt 12 R will be the next car in the pipeline following the NASCAR cars.
Kia Optima SX race car should be in the Season 2 build.
Kansas Speedway is the next track released, probably not in the next build.
Montreal and Bathurst are continuing to be worked on.
Laguna Seca and USA tracks will be updated to bring them closer to new track standards.
New shadow maps were almost in last build, likely to be in the next build.
Working on new process that changes the way shadows are cast from trees.
Dynamic skies is one of the next big projects on the horizon.
Lotus 49 is done, except it needs the NTMv5 which isn't done. Hoping for next build.
New in-game interface, loading screen and post-race UI's are in the works.
Working on new feature for Time Trials that will add ghost cars.
Paint kit evolving to include new color picker and increased font options.
Re-design of how you view and join race sessions.. More like a TV Guide.
Crew Chief next step in team racing, optimistically will be in the next build.
Cadillac and Corvette will have new sounds in next build, hopefully G6 cars at release.
Read the full Cat Herder XVII 2/7
---
INSIGHT: Racing's sim life rewards real life by David Phillips 2/1
---
Added past iRacing build notes for 2010. Updated Wheels, Pedals & Buttons Page and added pages for ECCI, Roso, Xtreme Sim Gear, Perfect Pedal and Sim-Sport.
---
New Car Sounds: Steve Myers wrote the new sounds will be coming to more cars. "We hope to have the INDYCAR, Lotus 49, Lotus 79, Vette, Cadillac, Impala's and hopefully more coming next. It's a completely new process to collect these samples so unfortunately we just can't waive a magic wand to do it for all the cars." Forum Post | New Build Updates Page 1/28
UPDATE: Steve Myers tweeted today, "if you thought the V8 sounds good now your going to lose it when you hear the Vette! Just heard first pass and it's sick". iRacing also tweeted that we might get a taste of the new Corvette sound next week. Twitter 1/31
---
Added all past iRacing release notes from 2008 & 2009. Will be adding 2010, 11, 12, and 13. Added oval car pages for the 2013 Chevy SS, Ford Fusion, Chevy Camaro and Ford Mustang.. also added Chevy Impala page. Added FW31, McLaren and Cadillac pages on the road side. Added pages for Layne Sim Products, CST Pedals, Derek Speare Designs and Bodnar Cable. 1/30
---
New Ford Falcon V8 Supercar Sound: Check out iRacing's latest upgrade to the Ford Falcon V8 Supercar engine sounds. Steve Myers says the new sounds will be coming to more cars in the future. YouTube Video 1/30
---
G6 NASCAR Cars Coming 'Soon' to iRacing: The new Chevrolet SS and Ford Fusions are on their way to iRacing. The Chevrolet SS is slated to come by the end of February with the new Ford Fusion coming around March 5th. G6 NASCAR Cars Page 1/28
---
2013 Season 1 Build Notes: iRacing build notes are now available. Updates to several cars and tracks, including New Steering Model to all cars, NTM updates to all cars, etc. 2013 Season 1 Build Notes 1/25
---
Class A Chevrolet SS: iRacing released a screenshot of the new Chevy SS that will be added to the sim in late February. View Screenshot 1/23
---
New Build Coming Thursday (Most Likely): Tony Gardner posted in the forums that the staff is pushing to have the Season 1 build released on Thursday 1/24, but could possibly come Friday. Tony's Forum Post 1/22
UPDATE- Build Coming Friday Morning, No Lotus 49: iRacing tweeted that the Season 1 build is set to be released on the morning of Friday 1/25. In a forum post about an hour and a half later, Tony Gardner confirmed the date of the build and noted that the Lotus 49 will not be ready for release in time by Friday. See @iRacing's Tweet here or check out Tony's forum post here. 1/23
---
ADDED: Printable one-page versions of the 2013 Season 1 Schedules, both OVAL and ROAD. Printable Schedules | Schedules & Events Page 1/21
---
iRacingTV Episode 16: iRacing posted Episode 16 of iRacingTV today. The episode includes a preview video of the new Lotus 49. There is a segment with Ray Alfalla (two-time NASCAR iRacing Series Champion). Tony Gardner highlights some of the new build features. A full recap of the 2012 iRacing Pro Race of Champions. iRacingTV also sits down with new iRacing software engineer, Richard Jobling. Youtube Video 1/21
---
iRacing.com Daytona 2.4 UPDATE Single Car Qualifying: iRacing.com will host the 2.4 at Daytona later this week. This year the race will include the new McLaren MP4-12C GT3 in addition to the Riley Daytona Prototype.
UPDATE: Kevin Bobbitt posted that iRacing has changed qualifying to single car sessions in light of the bump draft pushing that happened in the Roar Before the 2.4 qualifying last week. 2013 iRacing.com 2.4 Page | Schedules & Events Page 1/21
---
iRacing To Integrate Trading Paints: A huge step forward with paint schemes will arrive in next week's new iRacing build that will change the way we download paint schemes forever. Full Article 1/19
---
Physics Updates: Eric Hudec posted in the forum about a few changes in the upcoming build. Possible general drafting/slipstream aero changes to all cars which should help side drafting. This will impact how the cars drive at Superspeedways and intermediates. Possible tire carcass and compound changes to the Impala A, Impala B and Silverado. Possible steering model updates to all or most cars, including the stockcars. Track bar will have a max rake rule like was introduced past halfway this past NASCAR Sprint Cup Series season at all tracks, no just the superspeedways. They are working on 2013 cars, no eta on those. Eric said they are out of time to get any other changes in this next build, but hopefully they will have some of the above and maybe a few more minor things. Forum Post 1/8
UPDATE: Eric Hudec posted in the Silverado forum with an outline of changes that will be coming in the new build. Hudec said that tires will be less grippy on the top 3 NASCAR series vehicles (Impala A, Impala B, and Silverado), and that small springs in the rear of the truck will not work next season, as the rear end will not be allowed to travel as far. Also, an aerodynamic change will be made that makes it so that the truck will be considerably slower with the front end raised. Eric's Forum Post 1/18
---
Text Hotkeys Confirmed for New Build: Tony Gardner posted on the iRacing forums that in the new build, there will be options to create text strings and assigning them to the number keys on the keyboard (similar to NASCAR Racing 2003 Season). He noted that it will work in the following fashion: "Hit 3 on your keyboard for example and text chat will read 'passing left' ". No word if the keys will be customizable or not. Tony's Forum Post | New Build Page 1/17
---
Week 13: Official series include the SRF Challenge and the Street Stock Challenge.
• SRF Challenge – Road – Okayama, Charlotte, Laguna Seca, Summit Point, and Lime Rock
• Street Stock Challenge – Oval – Thompson, South Boston, Lanier, Charlotte, Oxford Plains, and USA
Unofficial series include the Carburetor Cup and several 24 Hours of Fun.
• Carburetor Cup – Oval – Impala A – Talladega
• 24HoF – Oval – Impala B & Silverado MC – Rockingham, Charlotte and Daytona
• 24HoF – Road – Cadillac, Ford Falcon, Ford GT, Corvette, and Mclaren – Spa and Suzuka
• 24HoF – Road – FW31 – Interlagos (once released)
• iRacing Gymkhana Challenge – Legends, MX-5 Cup, SRF – Oran Park (North B)
iRacing.com Pressroom | Full iRacerstuff.com Article | Schedules & Events Page
---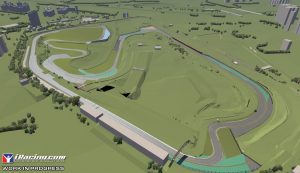 Interlagos (Autódromo José Carlos Pace) Confirmed for New Build: iRacing has confirmed that this will be the next track released in the sim. Scanning work was scheduled to start in spring but iRacing ran into trouble getting equipment through Brazillan customs. iRacing finally made their way to suburban Sao Paulo to scan the 2.677 mile circuit. View First Scan Image | View Interlagos Screenshots: 1 & 2 12/28
UPDATE: Steve Myers has confirmed that iRacing is shooting to have Interlagos available in the 2013-Season 1 Build. Twitter Post | Road Course News Page 1/3
UPDATE 2: Tony Gardner posted that we WILL see Interlagos in the build next week. " Just driving it here in the office in its finished state. What a wonderful track. So cool seeing the city in the background and all the objects, pretty unique track. I think 15 turns. If you have a decent computer, make sure you turn graphics setting up when you check it out. Anyway, will be in the build next week. For those that don't know it was quite a saga (and expensive) getting this track in iRacing. From getting license to then getting laser scanners confiscated in customs for months at the airport. Then starting from scratch, literally years in the making. Anyway, think it will be worth it. Especially excited for our Brazilian community who is among the fastest growing on iRacing." Forum Post | Road Course News Page 1/17
---
2013 Season 1 Schedule: Steve Myers released the 2013 Season 1 Schedule. The schedule has been built from scratch with a fresh look at race participation and track configurations that are the most popular in the service by car. With the help of a tool created by iRacing member Joachim Boeddeker, every piece of historical data regarding race and hosted sessions was analyzed to help come up with the track selections. The time schedule has changed for almost every series as well. The most popular series have races running every hour of every day and the weaker series in regards to participation have moved to every four hours daily. The bulk of the series will remain with the "every two hour" schedule every day. The good news is that every series has daily races allowing members to find a race in their favorite series during peak racing times. 1/14
UPDATE: There have been several complaints coming from the 2013 Season 1 Schedule, with the majority coming from race lengths on the oval side. Tony Gardner posted that they decided to keep the distances of the races to keep races from over-lapping. Tony wrote that "if we want to make the races longer we can. We can wait a week, wait 2 weeks or wait the season and see how it goes but rest assured we want to keep folks smiling as best we can. I suggest we wait a couple weeks and see how it goes." Tony's full post 1/15
UPDATE 2: Tony Gardner confirmed that the length of Class C (Silverado) and Class B (Impala B) NASCAR Series races will be increased in both the open and fixed setup series. Tony later talked about some other series, such as the IndyCar and multiclass prototype and GT series, but did not confirm any changes to the current plans for next season. Tony's post 1/15
AND Steve Myers posted an updated schedule around 4:30 PM ET Monday with changes to the NASCAR Class B and C series, both open and fixed. Most races had 10-15 laps added to them. Also, Texas and Chicagoland were taken off the SK Modified schedule and replaced with Texas Legends oval and Milwaukee. Updated 2013 season 1 Schedule | Schedules & Events Page 1/15
UPDATE 3: More adjustments to the schedule bring rolling starts back to the GT Challenge Series and for the Mustang Series in 2013 Season 1. Twitter 1/17
---
Custom Car Paints: The next build will include a FANTASTIC new feature for paint schemes. A new hotkey will be added, that will force all the cars to reload their textures for now. SO, painters can drop new paints into the folder then "Shift-R" to refresh the scheme, and drivers can join a race, then run Trading Paints and refresh all schemes in the current server without disconnecting and reconnecting. David Tucker posted that he updated the SDK to add a new remove call to let you reload the custom car textures from disk. It takes no parameters, and will force all the cars to reload textures for now. In the future we may add in support for reloading individual cars, so the textures don't all flash to white. Trading Paints was the big motivation for this. They were relentless in asking for this feature. I'm sure it will help everyone by using much less bandwidth and storage space. But I think the painters will benefit just as much. Anything that makes the iterations faster will help with the quality of paint jobs." David's Forum Post | New Build Updates Page 1/16
UPDATE: Part of the upcoming car texture refreshing feature will also be a new version of Trading Paints, confirmed by founder Steve Luvender. Instead of downloading every paintjob or choosing individual paints from the list of 50,000+ drivers for each car, a new Trading Paints program will run whenever you launch iRacing. This new downloader will download the paintschemes for the drivers and car(s) that are in that session, and with a simple texture refresh, you will be able to see every new paint scheme in your race. This will eliminate the need to download every paintscheme and update it often. It will also save disk space on your hard drive, as most TP users have many gigabytes of paint schemes in their iRacing "Paints" folder. No word on how this will work for spectator sessions, spotting sessions, or replays. Trading Paints founder Steve Luvender also hinted that the service also has a suprise in store for users, but could not reveal it just yet. Forum Post by Steve Luvender 1/16
---
Team Racing: Unfortunately not much coming in this end of January build in regard to Teams. We are able to take out the 1 or 2 second lag for spotters so now, no lag between spotter and driver is spotting for a driver, real-time in other words. Also did some other spotter cleanup. Right now still working on crew chief portion but will not be in build but guessing/hoping will be in April build. That should be the next piece. Right now we can actually swap drivers and have that working but so much else to deal with like how it all works in the pits, race control, how to handle the data, the webside and reporting aspects, creating the teams, team web pages and rules engineered around that, official versus hosted, and on and on so still a ways to go. Those things all in different stages but hopeful the whole team project is completed this year but again will be in stages. Tony Gardner's Forum Post | New Build Updates Page 1/16
---
World Championship Series web site: iRacing.com today announced the launch of wcs.iracing.com, a website focused on the iRacing.com World Championship Grand Prix Series and the NASCAR iRacing.com Series World Championship. The site features profiles of the drivers competing in the two series, along with schedules, standings, track guides and World Championship-related stores, videos and photo galleries. inRacingNews.com | wcs.iracing.com 1/16
---
G6 NASCAR Cars: iRacing is busy working with the new Sprint Cup Series car that is coming to NASCAR in 2013. The car is so new, iRacing is building them in lock-step as the data becomes available to real-world teams for testing. The current goal is to have the car available starting March 5th, which is 4 weeks into iRacing Season 1. iRacing has opted to start the season late for series that use the Impala A, having an 8 week season with 2 drop weeks. iRacing will also delay the start of the NASCAR iRacing Drivers World Championship Series a couple weeks so that it can begin with the new car. The new NASCAR event series featuring the cup car that mirrors the real-world cup series for the entire season will delay as well. The Daytona 500 World Tour Event will still run with the old car. With the introduction of Ford to iRacing's NASCAR stable, the series will be setup as a single class, multi-car series. The new cars are the Ford Fusion and Chevy SS. The Chevy SS will release first, hopefully during the last week of February, with the Ford Fusion to follow shortly thereafter, estimated two weeks after the Chevy. The current plan is to sell both cars at normal prices of $11.95. iRacing does plan to send out $6 credits to anyone who owns the old cup car and $11.95 to anyone who purchased it in the last 90 days to apply toward the purchase of the new Chevy SS or Ford Fusion. If you want to own both cars, members will purchase the other at the normal $11.95. While you do not need to own both cars to race in official iRacing series, both cars would be required in hosted sessions. Forum Post | Car Content News Page 1/9
---
Multi-Class in Hosted: iRacing is working on a development project that will allow members to race with other cars in mult-class without needing to own them in hosted. For hosted & league racing now, you need to own all the cars in race to be able to race with them. Across the board for all cars, that will change. iRacing hopes the project is complete for this build. iRacing is also moving the number of allowed cars in multi-class up from 3 to 4 cars. Again neither of those projects are 100% for this build but relatively optimistic will be in build. Forum Post | New Build Updates Page 1/9
---
Kia Optima to iRacing: Tony Gardner posted in the forum for those attending the 2013 Auto Show to check out the Kia booth as iRacing had been contracted to do some work for Kia. Today, Kevin Bobbitt confirmed that iRacing has scanned and built a car for Kia, specifically for the trade show application. Kevin said the car will be released, but it is not ready yet and that they are a ways away. No expected date and will definitely not be in this build. Forum Post | Screenshot | Car Content News Page 1/9
---
Car Graphics Updates: iRacing has confirmed in the next build all cars will receive an update that will make all of the cars a little more bright and shiny. A member posted in the iRacing forum that it appeared they "changed the reflectiveness of the bodywork – it's definitely more shiny around the edges… In a multi-class session a dark color McLaren looked amazing whereas a simply dark color Corvette just looked matte and dull." Grant Hill responded that "All the rest of the cars will get similarly waxed paint next season." Forum Post | New Build Updates Page 1/7
---
Kansas Speedway: This track has now been scanned by the iRacing team. Immediately following the 2012 Spring race at Kansas Speedway, the track underwent a massive renovation project that included repaving of the existing track surface, reconfiguration of the oval (adding progressive banking), and the addition of a new infield road course. iRacing scanned the track following the Fall event, but no word when it will be released. 12/27
UPDATE: iRacing has released the first scan images of Kansas Speedway and mentioned that work is underway. No word yet when this track will be released. View Track Scan | NASCAR Track News Page 1/4
---
Bathurst: iRacing has announced a license with Mount Panorama Raceway, better known as Bathurst. iRacing says this track will be coming to the online simulation in 2013. Bathurst follows Phillip Island as the second Australian track in the simulation. No update yet as when we can expect this track or where it falls in the pipeline. 12/28
UPDATE: iRacing posted to Facebook the first scan images of Bathurst and posted that work is underway. No word as to when we could see this track, but expect sometime mid-Season 2. View Scan Image | Road Course News Page 1/4
---
2013 Season 1 Schedules: Tony Gardner posted in the iRacing forum that next season, every series will run every day (7 days per week). A given series will go off either every hour, every 2 hours or every 4 hours depending on popularity. The schedule will be the same every day. Every car at this point is included and running 7 days per week, and several of them are in multiple series because of either mixed class or open and fixed setup series. Some other scheduling notes:
• iRacing is working on a World Tour NASCAR iRacing 2013 Series. It will follow the Sprint Cup every week as an event series. 36 races, with 6 drop weeks open to all members. Look for an official announcement next week.
• Current plans have Tour Modified every 4 hours, SK Modified every 2 hours.
• McLaren will likely be teamed with the DP instead of the Mustang just for Season 1. Mustang will still have a stand-alone series and will likely rejoin the DP in Season 2 in addition to the Cadillac. The Cadillac cannot be added to any other series until their current contract ends in 3 months. Schedules & Events Page 1/4
---
iRacing Home Page Update: Tony Gardner mentioned the web team is working on a new home page, replacing "What's Hot" to better see all racing options for official racing. The current new design is sort of like a TV Guide and much easier to see everything, including more than a 30 minute preview of what races are coming. This project is still in the design phase so it will not be coming in the Season 1 build. It is a pretty big data and web engineering project behind the scenes to keep the site running smoothly. 1/4
---
World Tour 2013: Details have been posted for the iRacing's 2013 World Tour. All World Tour races will have two time slots — Friday at 9pm EST and Saturday at 2pm EST. A quick look:
• Roar Before the 2.4 – Jan 18/19 – Mustang, Jetta, MX5 Cup – Daytona Road (Day)
• Daytona 2.4 – Jan 25/26 – McLaren, DP – Daytona Road (Night)
• Daytona 500 – Feb 22/23 – Impala A – Daytona Oval
• Indy 500 – May 24/25 – IndyCar – Indianapolis
• Pocono 400 – July 12/13 – IndyCar – Pocono
• Talladega Showdown – October 18/19 – Impala A – Talladega
• Brazilian GP – November 22/23 – FW-31 – Brazil/Interlagos
Qualifying for the Roar Before the 2.4, Indy 500 and Brazilian GP will be open all week prior to the race. Qualifying for the Daytona 500, Pocono 400 and Talladega Showdown will be only one session that will begin 15 minutes prior to the race start for two green flag laps. Kevin Bobbitt posted that they did eliminate some events this year, based on participation in the past. Kevin also mentioned the possibility of adding one or two events later in the year, just as they have in the past couple of years. Schedules & Events Page 1/4
---
Video: Check out this fantastic McLaren MP4-12c video. YouTube 1/3
---
Past iRacing News, Updates and Rumors: January 2012 | February 2012 | March 2012 | April 2012 | May 2012 | June & July 2012 | August – November 2012
---
Upcoming Track News
Head over to the NASCAR Track News Page and the ROAD Course News Page for more on all of the tracks rumored to be coming to iRacing.
Interlagos ((Autódromo José Carlos Pace): Confirmed to be in the 2013 Season 1 build.
Kansas Speedway: Scan images posted – Confirmed to be work in progress.
Bathurst: Scan images posted – Confirmed to be work in progress.
---
Car Content News
These and more can be found on the Car Content News Page with info about the new car content headed to iRacing.
Lotus 49: The Lotus 49 appears to be coming to iRacing in the next build as it has a schedule listed for 2013 Season 1.
NASCAR Ford Fusion & Mustang: iRacing has announced plans to bring the 2013 Sprint Cup Series Ford Fusion and the 2013 Nationwide Series Ford Mustang to the service. No word if we might receive these new cars in time for the 2013 NASCAR Season to begin.
---
Total Views: 108287